Mission:Enlighten your Soul, attain Almighty with wonder of Vihangam Yoga practice of minimum 10 minutes each Morning, evening & enjoy eternal Peace & Bliss.
We are based in Australia and we want to spread Sadafaldevji Maharaj's message to this part of the world and to extend the whole world thorough this medium of Internet.
We would like you to join our mailing list and exchange ideas on the Vihangm Yoga and its practicality and its internalisation in your daily life.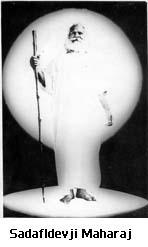 Sadafaldevji Maharaj
It is Religion-Free.
Has no particular religion, meant for all Human beings of any Faith, Age, Sex or Nationality.
It is Region-Free.
Enjoys global recognition. Devotees from Germany/Rome/U.K./Canada U.S.A./Japan/Singapore & Australia are well- rooted besides Home-Country India as well as Nepal & Sri Lanka.